John Taylor Arms, N.A. 1887-1953.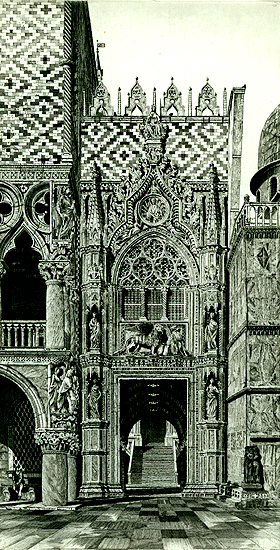 Enchanted Doorway,Venezia (La Porta della Carta, Venezia '29). 1930. Etching. Fletcher 227.ii. 12 3/8 x 6 9/16 (sheet 15 13/16 x 10 1/16). Edition 148 in this state (+ 19 trial proofs). Italian Series #15. Illustrated: Dorothy Noyes Arms, Hill Towns and Cities of Northern Italy, p. 170; Cortissoz, Contemporary American Prints, 1931; Anderson, American Etchers Abroad 1880-1930; Eric Denker, Reflections & Undercurrents: Ernest Roth and Printmaking in Venice, 1900-1940, p. 115. A rich impression on white laid paper from an antique volume. Signed, dated and annotated 'Edition 100' in pencil. $2,250.
The doorway is at the corner of the Ducal Palace in Venice..

To order, to report broken links or to be placed on the email list, please contact Jane Allinson (artgal23@earthlink.net) or fax (860) 429 2825.