!-William Blake. 1755-1834-->

William Blake. 1757-1827.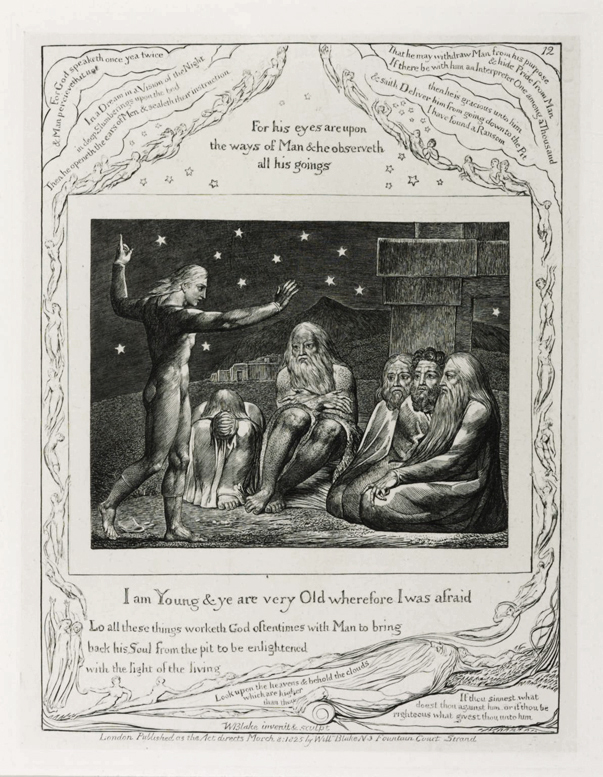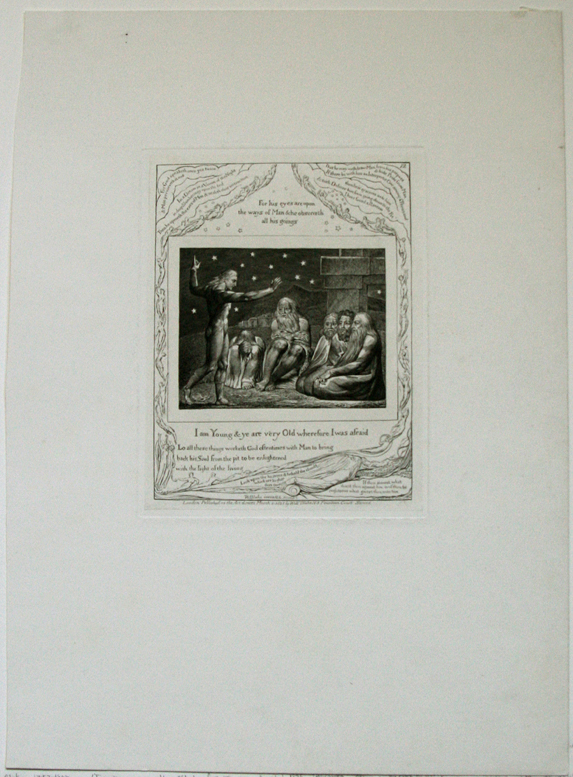 The Wrath of Elihu. 'I Am Young, And Ye Are Very Old, Wherefore I Was Afraid'. 1823-25. Engraving. Binyon 117.ii, Bindman 632. Image 7 7/8 x 5 15/16; plate 8 5/8 x 6 5/8; sheet 17 3/4 x 12 3/4. Series: Illustrations of The Book of Job, #12. From the 1874 edition of 100 published by John Linnell, printed on laid India paper mounted on white wove paper (after the previous editions totaling 315). A superb, richly-inked impression printed on the full sheet. Signed and dated in the plate. $3,000.

llustration no.12: Job, xxxii–xxxvii. Blake's main title quotes from the opening of Elihu's speech: 'I am Young & ye are very Old wherefore I was afraid [and durst not shew you mine opinion]' (Job, xxxii, 6). The other marginal inscriptions are also taken from his speech: 'For God speaketh once yea twice/& Man percieveth it not In a Dream in a Vision of the Night/in deep Slumberings upon the bed/sic Then he openeth the ears of Men & sealeth their instruction/That he may withdraw Man from his purpose/& hide Pride from Man' (Job, i), and 'If there be with him an Interpreter One among a Thousand/then he is gracious unto him/& saith Deliver him from going down to the Pit/I have found a Ransom' (I, xxxiii, 14–16, 23–4); 'For his eyes are upon/the ways of Man & he observeth/all his goings' (Job, xxxiv, 21); 'Lo all these things worketh God oftentimes with Man to bring/back his Soul from the pit to be enlightened/with the light of the living' (Job,. xxxiii, 29–30); 'Look upon the heavens & behold the clouds/which are higher/than thou/If thou sinnest what doest thou against him or if thou be/righteous what givest thou unto him' (Job, xxxv, 5–7).

To order, to request images or to be placed on the email list, please contact Jane Allinson (jane@allinsongallery.com).