!-Timothy Cole. 1852 - 1931-->

Timothy Cole. 1852 - 1931.
(after Sargent). Portrait of Mrs. Phipps N.Y. [and her granson, Winston Frederick Churchill Guest (1906-1982), son of Amy Phipps Guest.] 1912. Wood engraving. 7 3/4 x 4 3/16 (sheet 7 1/2 x 9). Proof on tissue paper. Slight toning; otherwise fine condition. Provenance: Dr. Eugene Allen Noble. Signed, titled and dedicated 'To E.A. Noble' in pencil. $150.

The painting by Sargent of Mrs. Phipps and Winston Guest is hanging in the Phipps dining room of Old Westbury Gardens, Old Westbury, Long Island, NY, which in now open to the public. According to the plaque it was done in 1906.
The Henry Phipps family of the United States was founded by Henry W. Phipps, Jr., the son of an English shoemaker who emigrated in the early part of the 19th century to Philadelphia, Pennsylvania before settling in Pittsburgh. Henry Phipps grew up with Andrew Carnegie as friend and neighbor. As an adult, he was Carnegie's business partner in Carnegie Steel Company and became a very wealthy man. He was the company's second largest shareholder and invested in real estate. After selling his stock in Carnegie Steel, Phipps became a leading advocate of housing for the poor and a major philanthropist. He embraced the principle that those who have achieved great wealth should give back for the public good and create institutions dedicated to that purpose. Henry and his wife Anne had 5 children: Amy, John S., Helen, Henry Carnegie, and Howard.

John William Evans. American. Born 1855.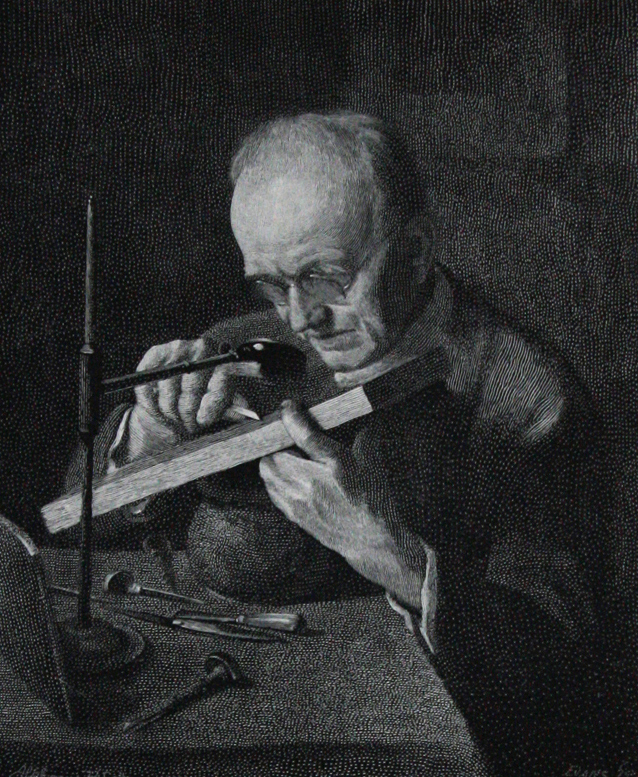 Timothy Cole Engraving a Woodblock. 1935. Wood engraving after Alphaeus Philemon Cole (1876-1988). 6 3/16 x 5 (sheet 12 x 9). A rich impression printed on cream wove paper. Signed in pencil by Alphaeus P. Cole, signed and dated by John W. Evans. $500.

An excellent new reference book is by William H. Brandt, Interpretive Wood-Engraving. The Story of the Society of American Wood-Engravers. Hardcover with dust jacket, 204 pages, $85. Publisher: Oak Knoll Press, Delaware. Phone: 800-996-2556.

Timothy Cole was an American wood engraver born in London, England, his family emigrated to the United States in 1858. He established himself in Chicago, where in the great fire of 1871 he lost everything he possessed. In 1875 he moved to New York, finding work on the Century (then Scribners) magazine. He immediately attracted attention by his unusual facility and his sympathetic interpretation of illustrations and pictures, and his publishers sent him abroad in 1883 to engrave a set of blocks after the old masters in the European galleries. These achieved for him a brilliant success. His reproductions of Italian, Dutch, Flemish and English pictures were published in book form with appreciative notes by the engraver himself.
Though the advent of new mechanical processes had rendered wood engraving almost a lost art and left practically no demand for the work of such craftsmen, Mr Cole was thus enabled to continue his work, and became one of the foremost contemporary masters of wood engraving. He received a medal of the first class at the Paris Exhibition of 1900, and the only grand prize given for wood engraving at the Louisiana Purchase Exposition at St Louis, Missouri, in 1904. His son Alphaeus Philemon Cole, was noted as a portraitist.

To order, to report broken links or to be placed on the email list, please contact Jane Allinson (jane@allinsongallery.com) or fax (860) 429 2825.