!-Childe Hassam. 1859-1935-->

Childe Frederick Hassam, N.A. 1859-1935.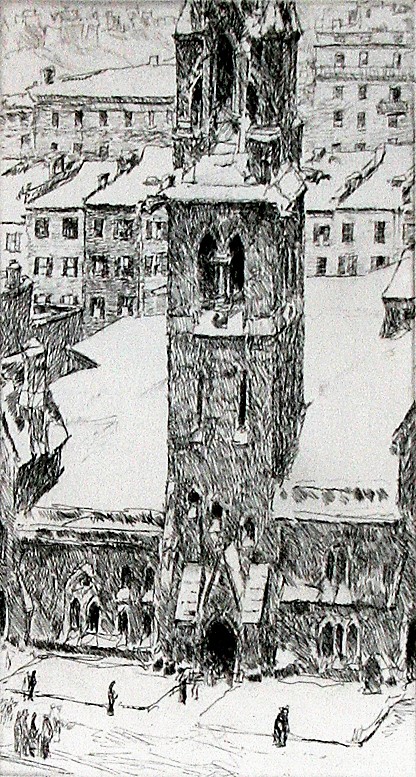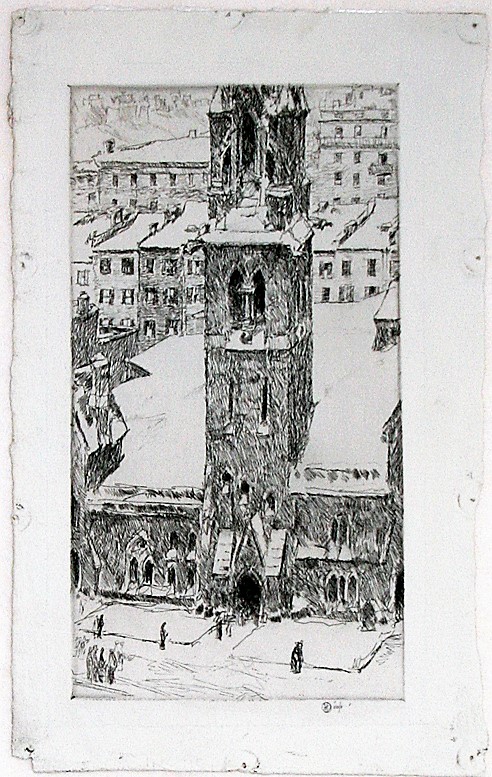 The Church Across the Way. 1916. Etching. Cortissoz, Clayton 66. 8 1/4 x 4 3/8 (sheet 10 1/16 x 6 1/8). A fine impression with carefully-wiped plate tone printed on whitelaid paper with a '6' partial countermark. With the usual drying tack holes in the margins. Annotated 'New York C.H. 1916'in the plate; signed with the cypher in pencil. The etching is extremely scarce. Housed in a period 18 x 14-inch gold leaf frame. $5,000.

The subject is Cavalry Baptist CHurch on 57th Street. The etching was drawn from Hassam's studio window in January, 1916.

Hassam is tonal, occupied with the same problems as in his painting,—the interplay of atmosphere, sunlight, shadow. He may be placed in the small list of impressionist etchers, of whom are Pissarro and Cezanne. But that won't do if it is supposed to imply similarity of handling. Hassam is himself. Beside street scenes, such as "Broad and Wall Streets," Hassam has lingered lovingly over individual buildings, such as Calvary Church in snow, St Mark's in the Bouwerie in "mist and rain," and "The Church across the Way," a bit of architecture and snow, and an intriguing composition brought about through viewpoint from above. Frank Weitkampf. "New York City in Graphic Art". The Print Connoisseur vol. 1 (1921): 80.

To order, to report broken links or to be placed on the email list, please contact Jane Allinson (jane@allinsongallery.com), call (001) 860 429 2322 or fax (001) 860 429 2825. Business hours are 9:A.M. to 5 P.M. Eastern Standard Time.
Please click here to review the USE AND ACCEPTANCE AND PRIVACY POLICIES FOR THE ALLINSON GALLERY, INC. WEBSITE
Thank you for visiting this website.