!-Paul Cesar Helleu. 1859-1927 >
Paul César Helleu. 1859-1927.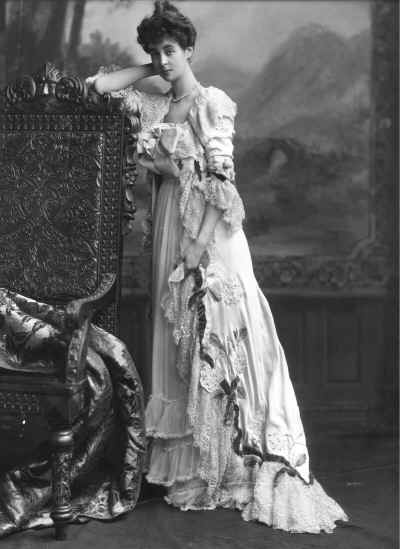 La Duchesse de Marlborough, Consuelo Vanderbilt. c. 1901. Drypoint. 21 1/2 x 13 3/4 (sheet 24 3/8 x 12 3/4). Housed in a silk mat with a gold liner, in a gold leaf frame that measures 31 1/2 x 22 1/2. A rich impression printed on white wove paper with full margins. This portrait is the artist's master work. Signed in pencil in the image. Housed in 33 1/2 x 24 1/4-inch antique black lacquer and gilt picture frame with applied gilt decorations. $19,000.
In November 1896, Consuelo Vanderbilt Balsan married Charles, 9th Duke of Marlborough (1871–1934), in 1895. She became the mistress of Blenheim Palace, that was so large, she never even knew the number of rooms. At the time, many weddings of European aristocrats married American heiresses. Frequently the nobility looked upon the Americans who married into their caste as intruders, unworthy of their new position.
In her autobiography, The Glitter and the Gold, she chronicles life as a duchess, entertaining royalty and visiting Czarist Russia before the Revolution. She also discusses her divorce and subsequent marriage to Jacques Balsan, which caused sensational headlines in the 1920's. Born into great wealth and power, Consuelo Vanderbilt Balsan stood out among the "Dollar Princesses", the wealthy American women who wed royalty in the late l890s and early 20th Century.

To order, to report broken links or to be placed on the mailing list, please contact Jane Allinson. (jane@allinsongallery.com) or fax (860) 429-2825.