!-James McBey. 1883-1959-->

James McBey. 1883-1959.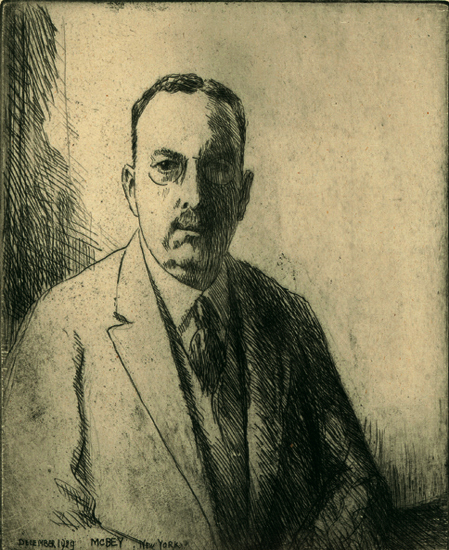 Portrait of Albert H. Wiggin (No. 3). 1930. Drypoint. Hardie/Carter 259. 8 x 7 (sheet 14 x 9). Edition 85, #33 . An extremely rich impression with drypoint burr, printed on antique cream laid paper. Dedicated in ink, 'From collector to collector. A.H.W. to Dudley Olcott.' Signed and numbered in ink. $325.

Albert Henry Wiggin (February 21, 1868–May 21, 1951) was an American banker. In 1904 he was the youngest ever vice president at the prestigious Chase National Bank and in 1911 became president. Wiggin became an important player on the world financial stage and in 1923 opened a Chase National Bank representative office in London, England which began lending directly to governments and businesses throughout Europe. Albert Wiggin retired from banking in December 1932. In his personal life, beginning in 1911 he started assembling a collection art prints, drawings, watercolors, and books. Among the French, British, and American works of art on paper that Wiggin acquired were prints by Henri Fantin-Latour, Francisco Goya, Honoré Daumier, George Bellows, Henri de Toulouse-Lautrec, Thomas Rowlandson, Jean-Louis Forain, Alphonse Legros, and many others. In 1941 he donated his collection of several thousand pieces to the Boston Public Library. Other works from his assemblage can be found at the New York Public Library and the Baltimore Museum of Art. He was made a lifetime member of the board of MIT's Charles Hayden Memorial Library.

To order, to report broken links or to be placed on the email list, please contact Jane Allinson (jane@allinsongallery.com) or send a fax to (860) 429 2825.