!-Felician Rops. 1833-1898-->

Félicien Joseph Victor Rops. 1833-1898.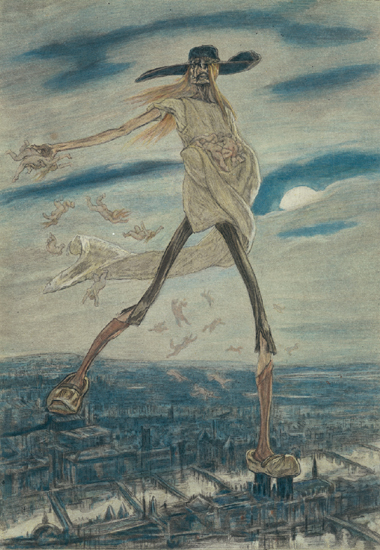 Satan sement l'ivraie (premier planche). (Satan Sowing Tares). c.1878. Heliogravure printed in colors. Not in Exsteens 927 with these measurements. Image: 10 1/8 x 7; Plate: 12 x 8 1/8; sheet: 17 x 12 3/4. Series: Les Sataniques. An atmospheric, tonal impression printed on simili-japon paper. Red seal of the publisher, Gustave Pellet, lower left; blindstamp, lower right. Unsigned. $4,000.

The theme reimagines a Biblical parable of a farmer sowing seeds in a field. Rops shows Satan scattering his semen, in the form of fully-formed babies, over Paris, one foot on Notre Dame. This is one of the artist's most dramatic images.
Rops was born in Belgium. He settled in Paris in 1874, welcomed by Puvis de Chavannes and Gustave Moreau. He worked closely with Baudelaire. Rops was fascinated by the fantastic and the supernatural, and his themes are frequently Symbolist in kind. The devil, skeletons, the prostitute, and death are the Baudelairian accessories of his art. Huysmans stated that Rops "celebrated that spiritualism of Luxury that is Satanism, and painted, in pages that cannot be perfected, the supernaturalism of perversity, the otherworld of Evil."

To order or to be placed on the email list, please contact Jane Allinson (jane@allinsongallery.com) or fax (860) 429 2825.