!-frank short. 1857-1945-->

Sir Frank Short, R.A., P.R.E. 1857-1945.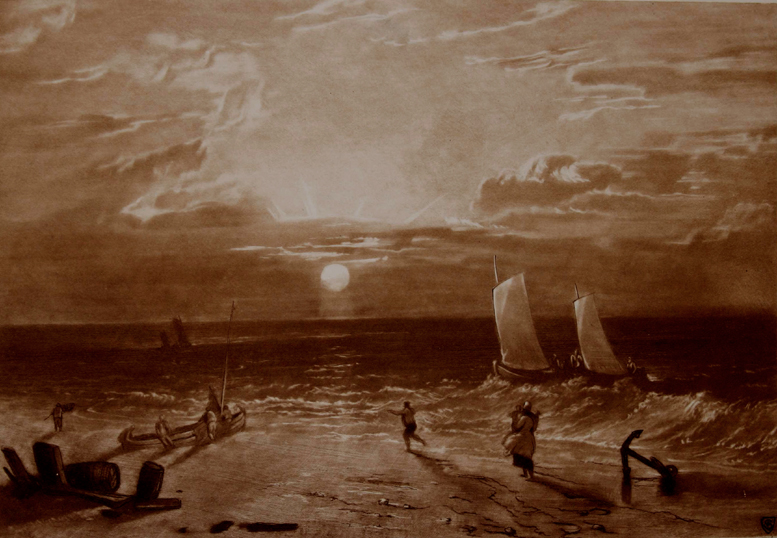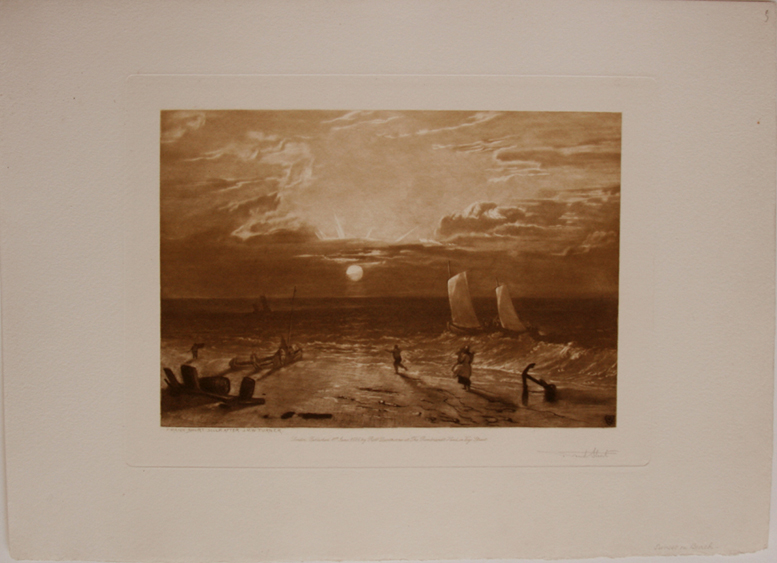 The Mildmay Sea Piece. (titled Sunset on the Beach on the frontispiece of the 'Twelve Subjects.') (after the oil painting by J.M.W. Turner, R.A., 1775-1851.) 1886. Mezzotint. Hardie 5.ii. With the publication line. 7 1/8 x 10 3/8 (sheet 12 1/8 x 17 1/4). Printed in brown ink on off-white laid paper on the full sheet with deckle edges. A rich impression in excellent condition. . Signed in pencil. $250.
In 1885 Frank Short began to release his mezzotint versions of Turner's Liber Studiorum. This work was to occupy him most of his life. In 1886 he released, through the printseller Robert Dunthorne, his version of The Mildmay Sea Piece (plate size 8 13/16 x 11 7/8 inches. Hardie 5. Strange 38).
The image was based on a Turner oil painting, "Fishermen Coming Ashore at Sunset Prior to a Gale." The painting, once in the possession of the Mildmay family, is now untraced.
In any event, Short's monograph Etching and Engravings, What they Are and Are Not, with Some Notes on the Care of Prints,, first published in 1911, contained a segment of the whole plate. The original plate was cut into segments for this purpose. Short's monograph, being popular, was reissued in 1912 and a different segment of the plate was used. The ezzotint that you have is the segment used in the 1812 edition (edition size 500; plate size approximately 3 1/2 x 3 1/2 inches). The title used in the monograph is "Sunset on the Beach". These reduced versions were used to illustrate the process of mezzotint.
It is possible that a few proofs, in addition to those used in the monograph, were printed and used by Short as greeting cards. These are usually signed in pencil.

To order, to report broken links or to be placed on the email list, please contact Jane Allinson (jane@allinsongallery.com) or send a fax to (860) 429 2825.