!-James Whistler. 1834-1903-->

James Abbott McNeill Whistler. 1834-1903.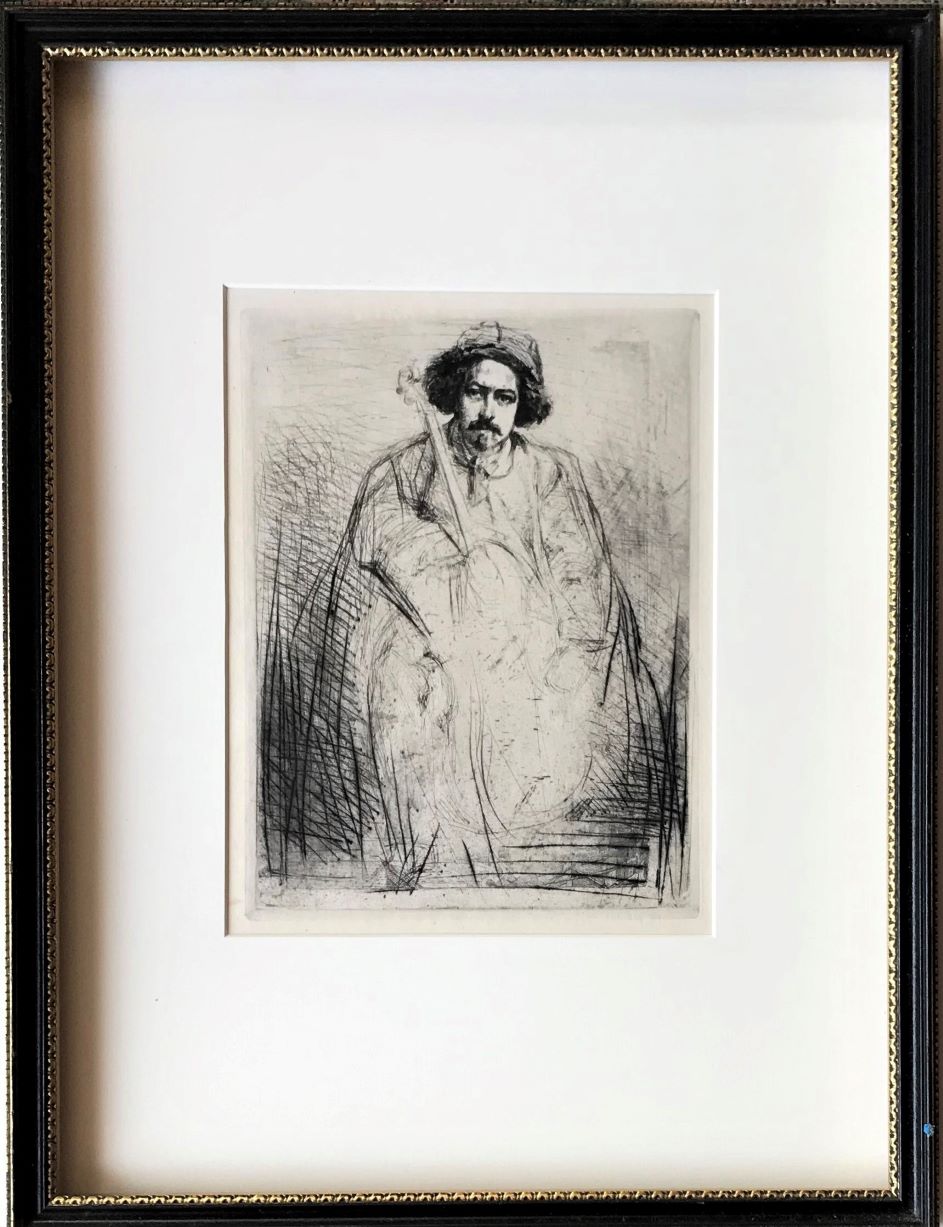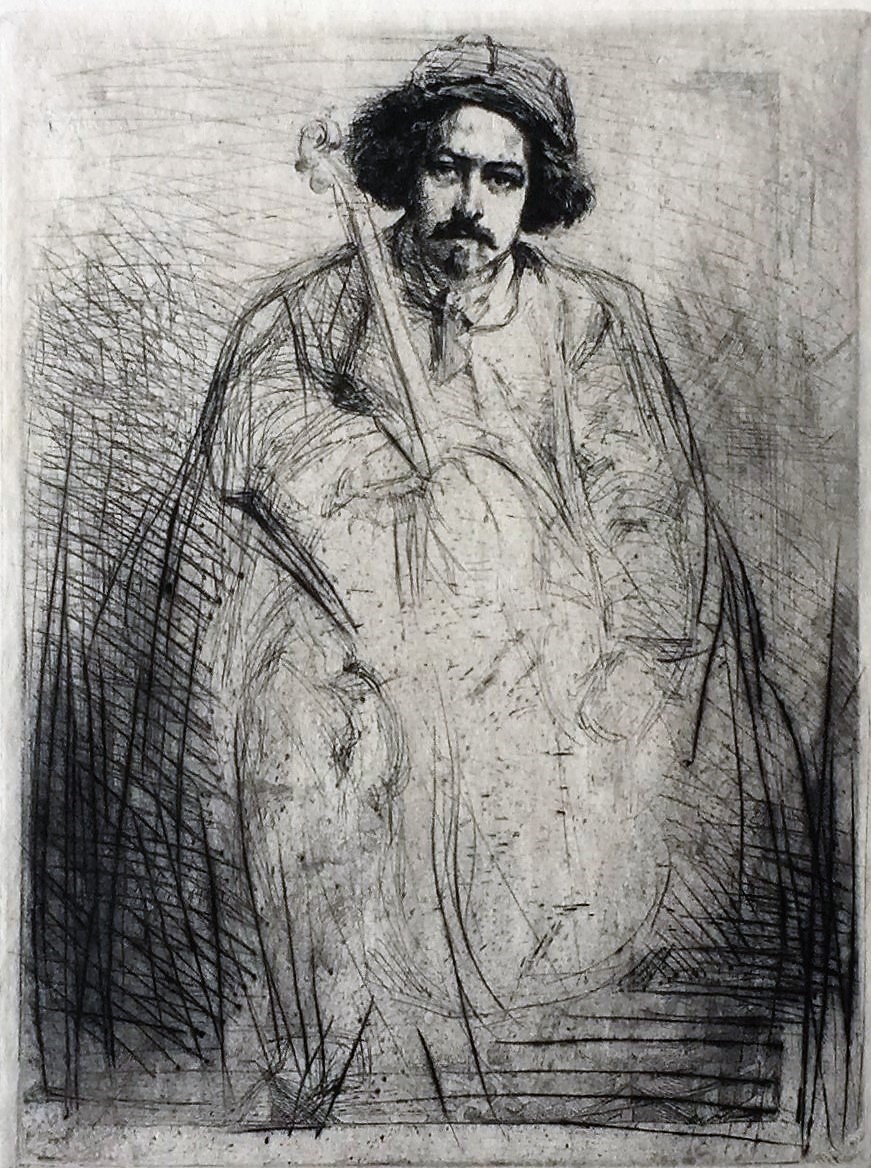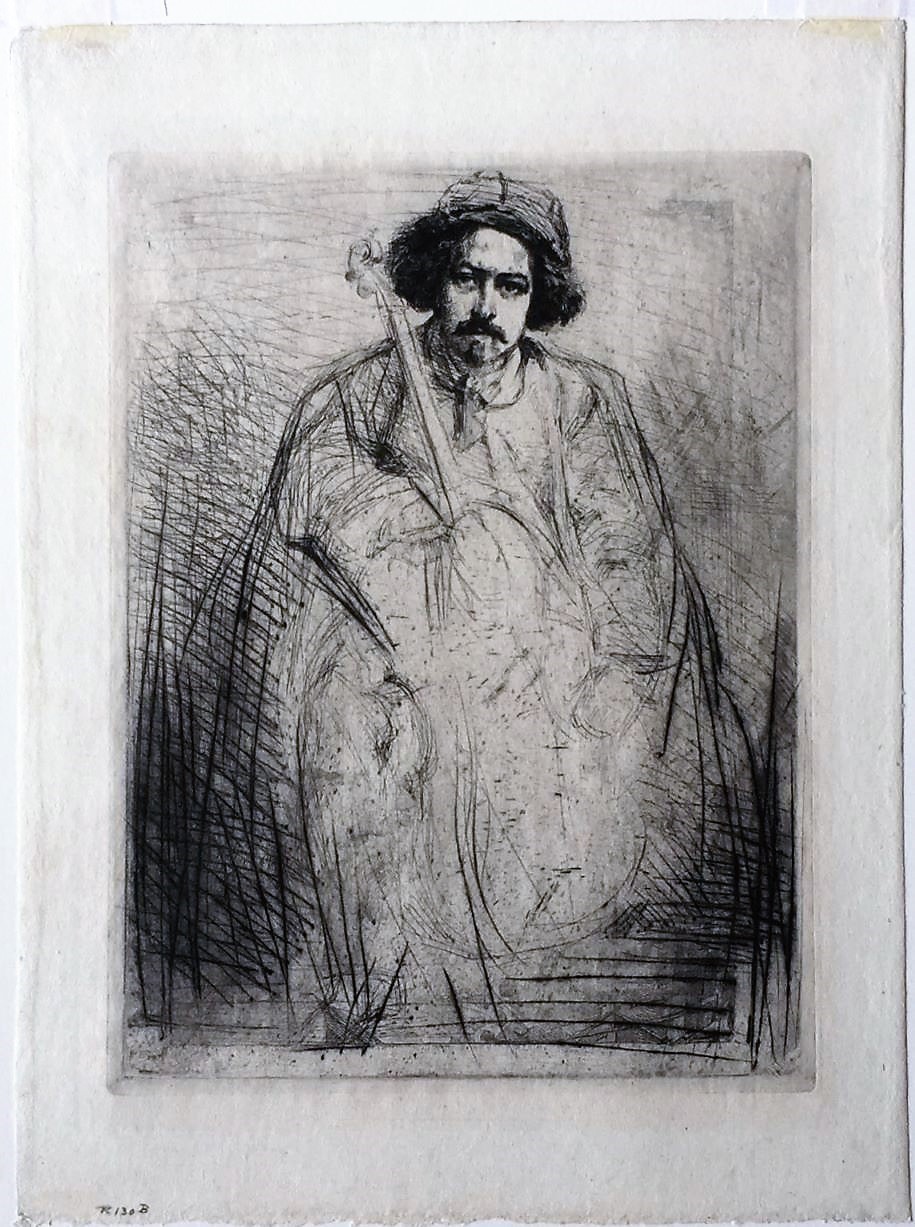 J. Becquet, Sculptor (The Fiddler). 1859. Drypoint. Kennedy 52.iv; Glasgow 62.vi. 10 1/8 x 7 1/2 (sheet 12 3/4 x 9 1/2). Series: "Sixteen Etchings or Scenes on the Thames and Other Subjects" (Thames Set), plate 8. Illustrated: Salaman, The Great Painter-Etchers from Rembrandt to Whistler,, Print Collector's Quarterly 1 (1911): 36; Salaman, Modern Masters of Etching: Whistler; Guichard, British Etchers, 1850-1940. An extremely rich impression with plate tone, printed on the Japanese mulberry paper with full margins. Unsigned. Housed in a 19 5/8 x 14 5/8-inch black and gold Hogarth style frame. $3,500.
Whistler's portrait captures the musician's direct gaze and suggests that the musician and his instrument are inseparable by dissolving the lines of the cello into Becquet's body. The French sculptor and musician, Just Becquet (1829-1907),was a friend of the artist who, according to Joseph Pennell's Whistler Journal, lived in his studio among "disorder and his cello" (quoted after Lochnan, p. 104).
Kennedy writes, "Whistler told me that this plate was originally an oblong etching of West Point, made by an old classmate, who brought it to him for his opinion. Whistler scraped off the view of West Point and put Becquet in its place; why, he did not say. At the lower right corner the stacked muskets may be plainly seen; possibly it was in order to cover them that the earliest impressions (I) were printed with a frisket."

Please click on the link to the Glasgow online catalogue raisonné Becquet.

James Abbott McNeill Whistler.

To order or to request additional or to be placed on the email list, contact Jane Allinson (jane@allinsongallery.com) or call (860) 429 2322.
Please click here to review the USE AND ACCEPTANCE AND PRIVACY POLICIES FOR THE ALLINSON GALLERY, INC. WEBSITE