!-Christopher Nevinson. 1889-1948-->

Christopher Richard Wynne Nevinson. 1889-1948.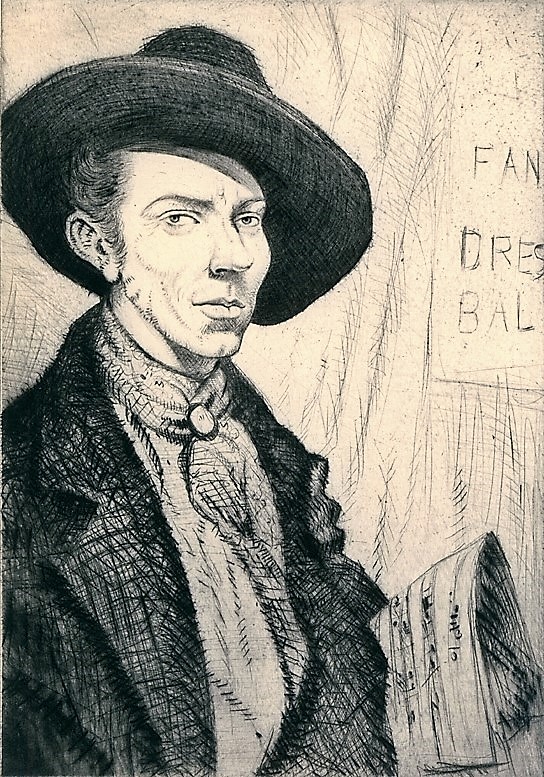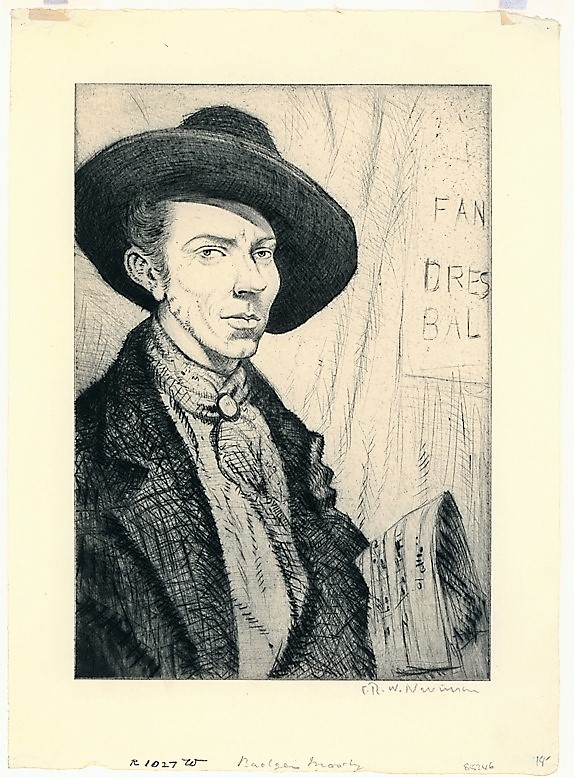 Geoffrey Badger Moody. 1922. Drypoint. Guichard 38, Black 98. 10 x 7 (sheet 12 5/8 x 9 1/8). Edition 150. Illustrated: Fine Prints of the Year, 1923. A rich impression with drypoint burr, printed on 'FJ Head & Co' cream wove paper. Published by Lefevere and Son and Mssrs. Ernest Brown and Phillips. Signed in pencil. $2,750.

Geoffrey 'Badger' Moody was a bohemian bass-baritone singer painter and painter. He died shortly after Nevinson etched his portrait.
Nevinson wrote in his autobiograpy, Paint and Prejudice:
By now Wadsworth, Allinson, Glaus, Ihlee, Lightfoot, Curry, Spencer, and myself had become a gang, sometimes known in correct Kensington circles as the Slade coster gang because we mostly wore black jerseys, scarlet mufflers, and black caps or hats. Sometimes we were joined by the one- armed Geoffrey Badger Moody, who was the toughest of the lot. We were the terror of Soho and violent participants, for the mere love of a row, at such places as the anti-vivisectionist demon- strations at the "Little Brown Dog" at Battersea. We also fought with the medical students of other hospitals for the pos- session of Phineas, the bekilted dummy which stood outside a tobacconist's shop in Tottenham Court Road and was rightly or wrongly considered the mascot of the University College of London. I believe they still fight for it. This often entailed visits to Tottenham Court Road police station, Bow Street, and Vine Street. There is no doubt we behaved abominably and were no examples for placid modern youth. Fortunately we were well known to the police, who in those days treated "college lads" with an amazing tolerance. I could not mention the number of occasions on which the crowd turned on our gang and pursued us up Greek Street and round the Palace Theatre. They were usually actuated by a frenzy of patriotism, as the eccentricity of our clothes proved we were dirty for- eigners. Why they should have felt like that in Soho, of all places, heaven only knows. (pages 37 and 38).

An Illustrated Magazine For Collectors
Edited by C. Reginald Grundy.
Vol. LXI. (SEPTEMBER— DECEMBER, 1921)
'The True Génesis of Mr. Nevinson's Art'; pg. 238,
'After losing his way in many artistic culs-de-sac, Mr. C. R. W. Nevinson at last seems to have struck upon a thoroughfare which will lead him to higher things. One is persuaded to this reflection after surveying his latest exhibition at the Leicester Galleries (Leicester Square), which, if it contained much that was infelicitous, also embodied a serious promise to do better in the future. His Portrait of a Singer, which, one believes, portrays the one-armed artist known to Bohemia as " Badger " Moody (who died during September), was drawn with circum- spection and handled with a proper forcibility. It is probably the best work Mr. Nevinson has ever produced.'

To order, to report broken links or to be placed on the email list, please contact Jane Allinson (jane@allinsongallery.com), call (001) 860 429 2322 or fax (001) 860 429 2825. Business hours are 9:A.M. to 5 P.M. Eastern Standard Time.
Please click here to review the USE AND ACCEPTANCE AND PRIVACY POLICIES FOR THE ALLINSON GALLERY, INC. WEBSITE
Thank you for visiting this website.