!-Edmund Blampied, 1886-1966-->


Edmund Blampied, R.E. British. 1886-1966.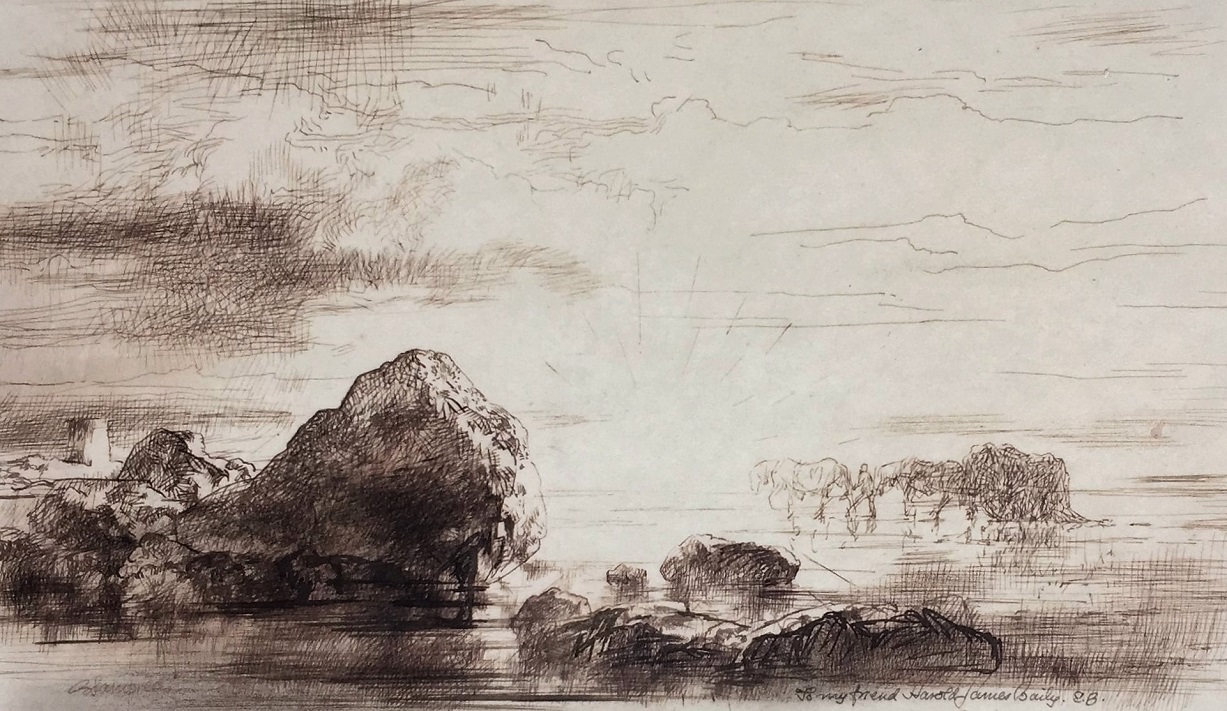 Gathering Vraic on a Jersey Shore. c. 1937. Ink and watercolor on 'Castle Linen Tolli & Harvey LD London' countermarked paper. 7 1/8 x 13 1/2 (sheet 12 1/2 x 16 1/4). Good condition, apart from small professionally repaired paper losses at the corners, from previous hinges. Dedicated 'To my friend Harold James Bailey E.B.' and annotated 'To wish you a glad glow of happiness for Christmas and the New Year'. From the collection of the famous Blampied scholar and collector, Harold J. Bailey, who wrote an article, 'Edmund Blampied: Artist and Philosopher' in the Print Collector's Quarterly 24 (1937). Housed in a 15 1/2 x 21 1/2-inch Whistler style gold wood frame. $2,500.
In the left rear section is a Martello or Conway tower, built as a fortifiction. A Jersey Round Tower Coastal towers stand all along the coast of the island. The British built 22 round towers, one similar square tower, and eight Martello towers towards the end of the 18th Century and in the early to mid-19th Century, but now only 24 remain, including seven of the Martellos.
Vraic is a seaweed found in the Channel Islands. The main use of vraic is for spreading over potato fields during the winter. It is then ploughed into the soil before the potatoes are planted in late winter and spring. Vraic was traditionally gathered by horse and cart in Grouville Bay and St Ouen's Bay, and in smaller quantities at Le Hocq and Havre des Pas. The practice continues using tractors and trailers, although the quantity taken has diminished over the years.

To order, to report broken links or to be placed on the email list, please contact Jane Allinson. (jane@allinsongallery.com) or send a fax to (860) 429 2825.