Lawrence Nelson Wilbur. 1897-1988.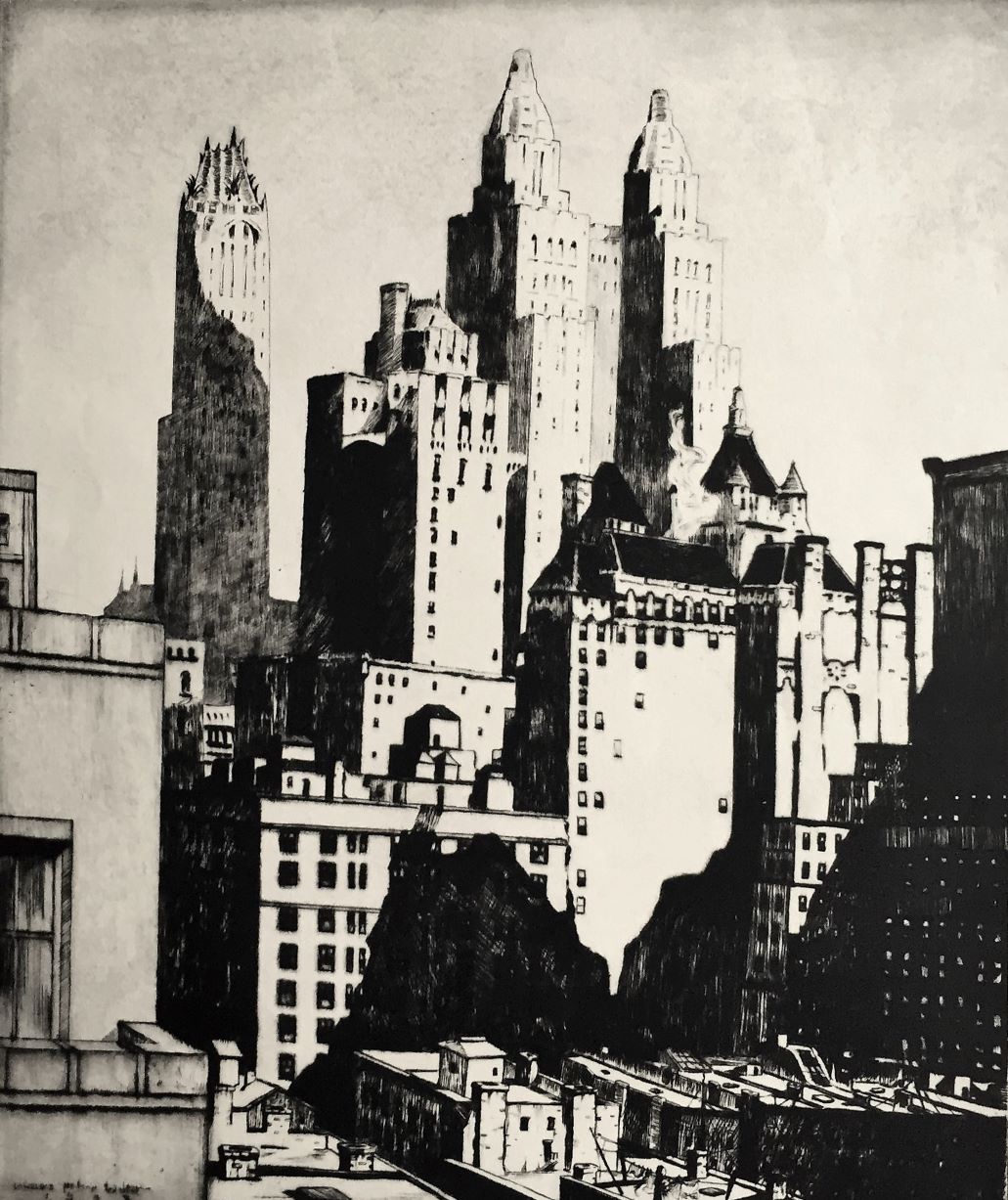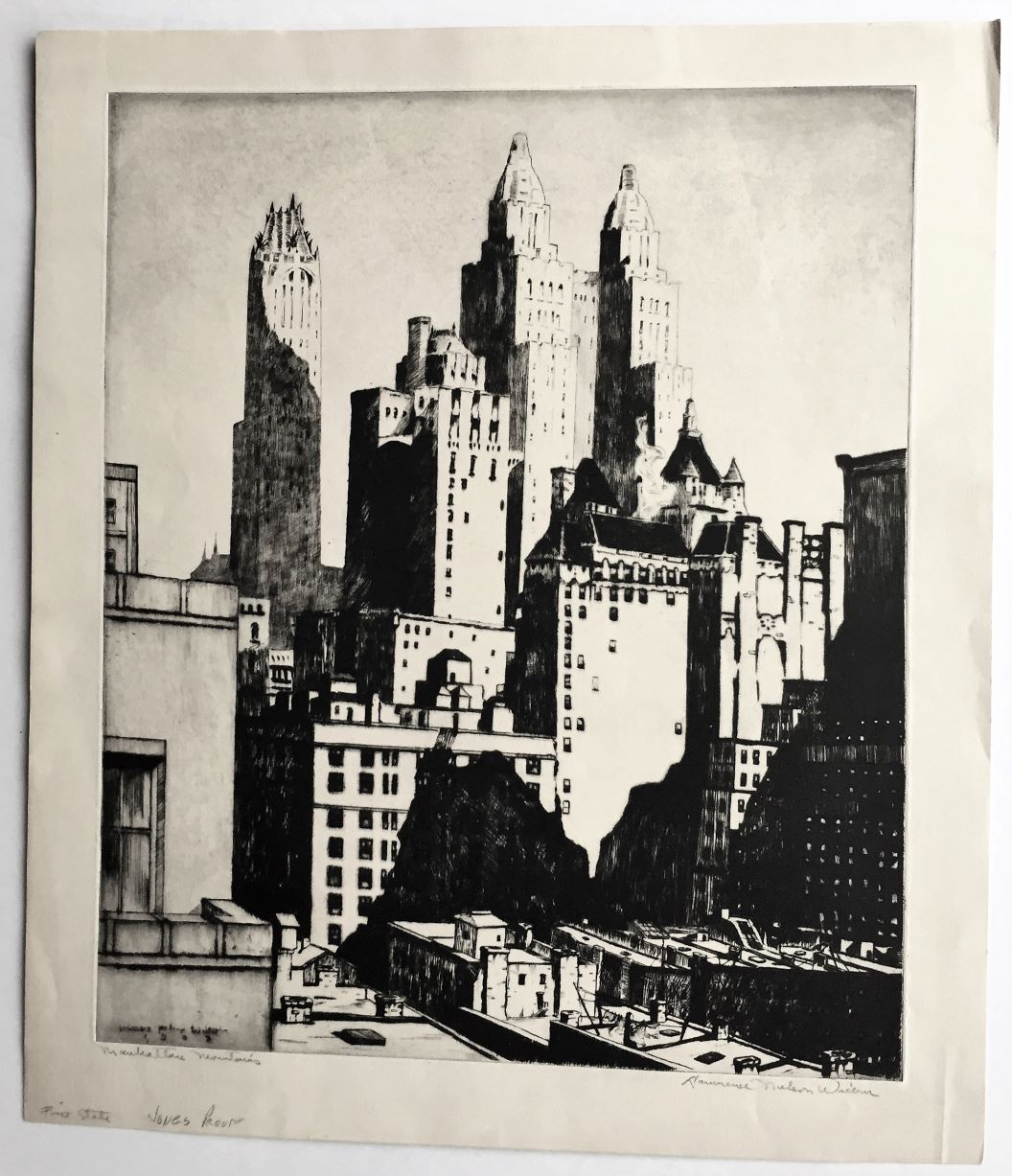 Manhattan Mountains. 1938. Etching and drypoint. 14 3/4 x 12 3/8 (sheet 17 1/4 x 14 3/4). Final, previous to the edition 40. An atmospheric impression printed on buff-colored laid paper. Signed and dated in the plate. Signed, titled and annotated 'Final state' and 'Jones Proof'in pencil. $750.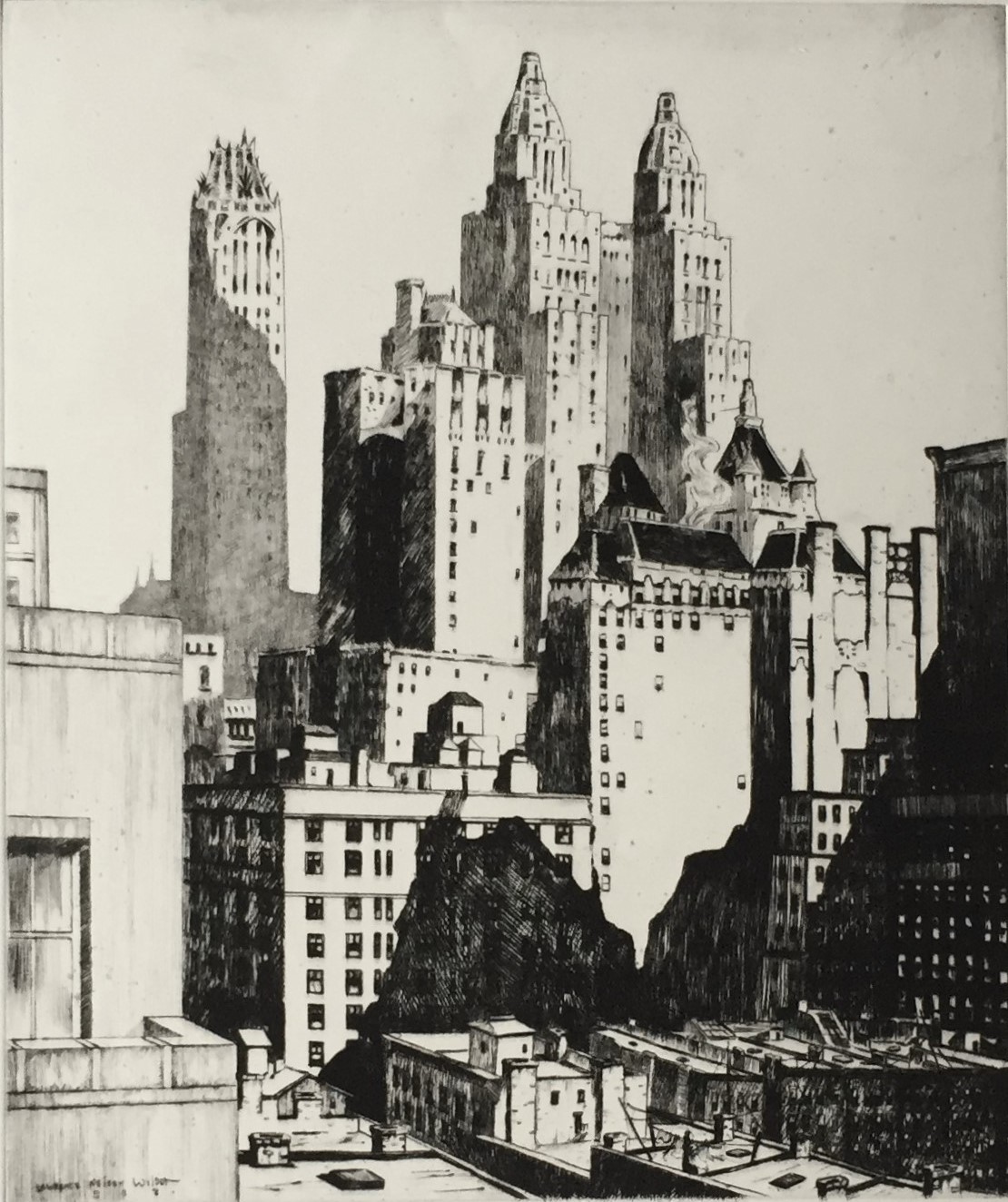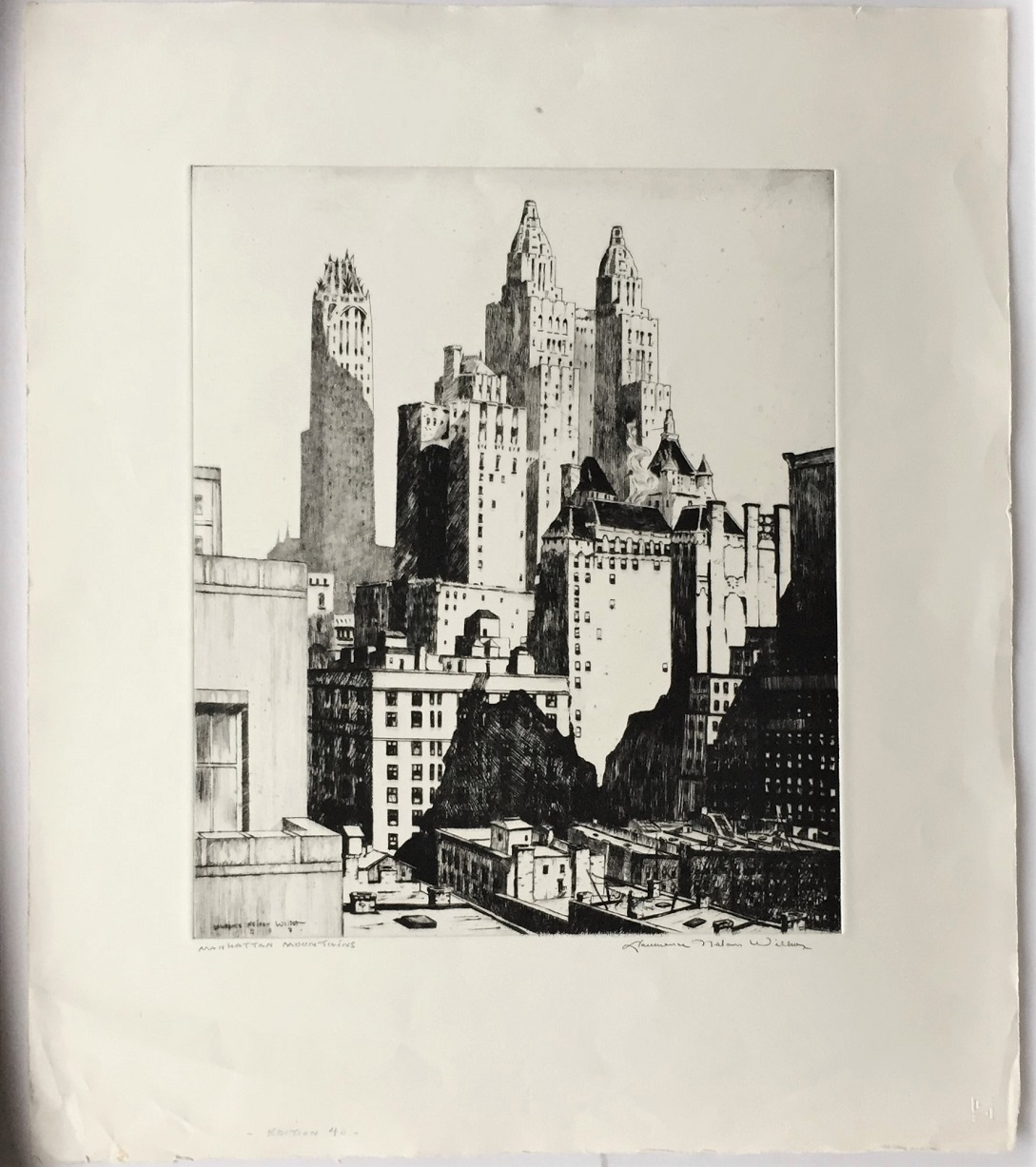 Manhattan Mountains. 1938. Etching and drypoint. 14 3/4 x 12 3/8 (sheet22 1/4 x 19). Edition 40. Fine condition apart from creasing in the lower left-hand sheet corner and a mark in the upper margin, both well outside the image. A dramatic richly-inked impression printed on the full sheet of Rives laid paper with deckle edges. Signed and dated in the plate. Signed, titled and annotated in pencil. $700.

Painter and printmaker Lawrence Nelson Wilbur was born in Whitman, Massachusetts. He moved to Boston where he began his training as a photoengraver. He moved to Los Angeles in 1921, where he worked in the engraving department of the Los Angeles Times. Relocating to New York in 1925, Wilbur was employed as a finisher by several of New York's finest engraving shops and by several of the leading magazines of the era.
Wilbur enrolled at the Grand Central Art School, where he studied under N. C. Wyeth and Harvey Dunn.a number of Lawrence Nelson Wilbur traveled to Boston and Los Angeles before settling in New York. In 1925, he enrolled in the Grand Central Art School where he studied under Harvey Dunn, N.C. Wyeth, and Pruett Carter. As a photo-engraving finisher, he worked for the finest engraving shops in New York, and a number of major magazine publishers headquartered there. The combination of his graphic arts skills and his serious pursuit of training in the fine arts formed the basis for his career as a talented draftsman, printmaker, and painter.
His works have been collected by the Metropolitan Museum of Art in New York; the National Gallery of Art and the Library of Congress in Washington, D.C.; the Philadelphia Museum of Art; and many other institutions. Wilbur received numerous awards for his art, including the Audubon Artist's medal of honor for a self-portrait in oil in 1957. He was a member of the Salmagundi Club of New York, the Painters and Sculptors Society of New Jersey, and Society of America Graphic Artists. He died in New York City.

To order, to report broken links or to be placed on the email list, please contact Jane Allinson (jane@allinsongallery.com), call (001) 860 4292322. Business hours are 9:A.M. to 5 P.M. Eastern Standard Time.
Please click here to review the USE AND ACCEPTANCE AND PRIVACY POLICIES FOR THE ALLINSON GALLERY, INC. WEBSITE
Thank you for visiting this website.