!- Shanti-->


John Taylor Arms, N.A. 1887-1953.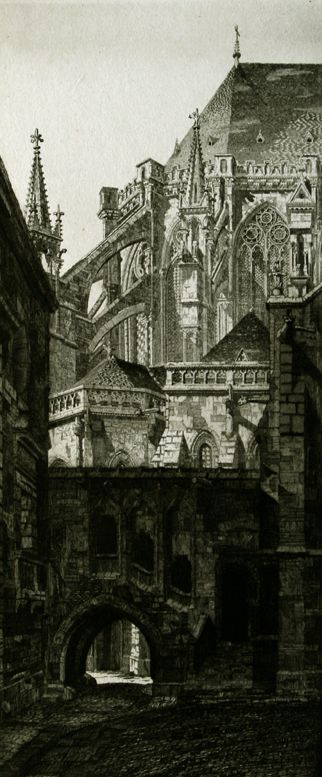 Abside de la Cathédrale de Saint Pierre et Saint Paul, Troyes (Apse of the Cathedral of Saints Peter and Paul, Troyes). 1929. Etching. Fletcher 224.ii. 12 1/2 x 7 3/8 (17 3/4 11 7/8). French Series, #29. Edition 127 in this state + 2 printed by Griggs in 1932 and 5 by Strang in 1937-38 (+ 20 trial proofs). Illustrated: Dorothy Noyes Arms, Churches of France, p. 156; Fine Prints of the Year, 1930. A fine impression printed in 1929 by Henry E. Carling with plate tone on pale blue/green laid paper. Signed, dated, titled 'Cathédrale de Saint Pierre et Saint Paul, Troyes' and annotated 'cp' (Carling printed) in pencil. $800.


To order, to report broken links or to be placed on the email list, please contact Jane Allinson (jane@allinsongallery.com), call (001) 860 429 2322 or fax (001) 860 429 2825. Business hours are 9:A.M. to 5 P.M. Eastern Standard Time.
Please click here to review the USE AND ACCEPTANCE AND PRIVACY POLICIES FOR THE ALLINSON GALLERY, INC. WEBSITE
Thank you for visiting this website.