!-John Sloan. 1871-1951-->


John Sloan. 1871-1951.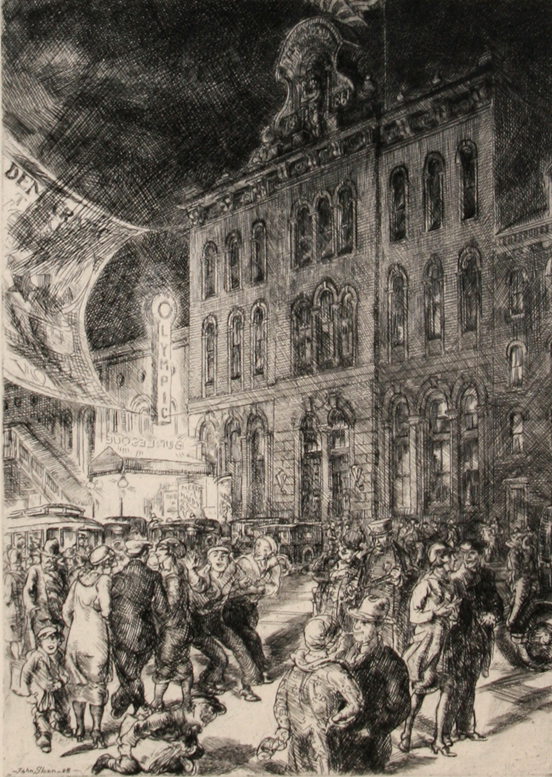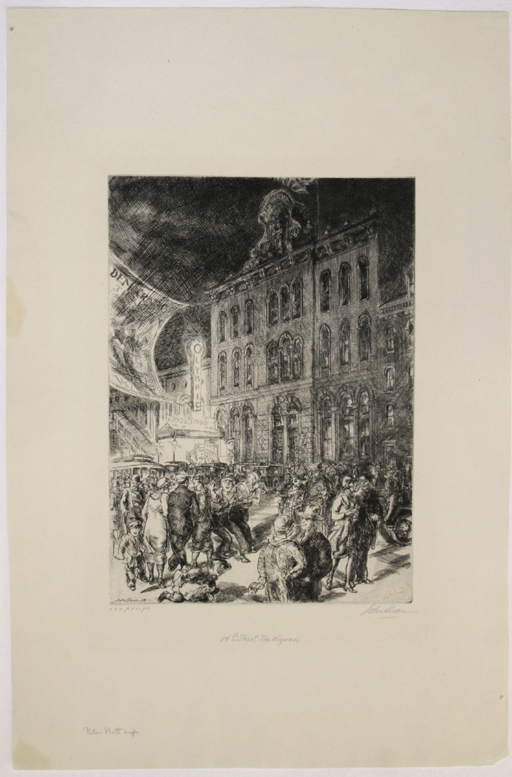 Fourteenth Street. The Wigwam. (Tammany Hall). 1928. Etching. Morse 235.vii.9 3/4 x 7 (sheet 17 1/4 x 11 3/8). From the first printing of 100 proofs by Peter Platt. There were an additional 10 printed by Ernest Roth. Illustrated: Reese, American Prize Prints of the 20th Century; Fifty Prints of the Year, 1929; Contemporary American Etching, American Art Dealers Association, New York, 1930. A rich impression printed on cream wove paper.Two hinge stains in the left-hand margin, well away from the image; otherwise fine condition. Signed 'Peter Platt imp' by the printer. Signed, titled and annotated '100 proofs' by Sloan. $3,500.

Sloan wrote "Old Tammany Hall, the headquerters of the bosses of New York City, has ceased to exist. It lurked, meanacing, in dingy red brick, facing the tawdry amusements of East Fourteenth Street. (Dart 101). The painting of this subject in the Met, done for the other painting of the same subject, a different composition, in the the Arts Students League, New York, is a 1948 adaption ofthe 1911 painting which had been destroyed by fire." Morse p.260.

To order, to report broken links or to be placed on the email list or to place an order, please email Jane Allinson (jane@allinsongallery.com) or fax (860) 429 2825.